My wonderful friend Tom Johnson (Leggo Lambe)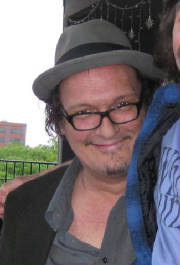 RIP 5/19/1958 - 9/25/2011 You're the best!!!
Audio from the WWS with Leggo Lambe that includes the hall of fame induction cermony from Oktober 2009 - We had such a fun time and many laughs - You get to hear candid stuff whilst Tom works with me to produce the show promo too. From this get together we also took a couple of pictures that this link will take you to the photo page to see them. Where I give the thumbs up was my Christmas card that year

Guest Leggo Lambe on WWS 10/2009
These files below are from my Rocks and Swings show from October of 2011. The beginning of it you hear Kyle Fletcher who was mentored by Leggo. Then also a mix of some of his music (this also aired where I had to bleep out some of the words, but actually missed one

. The next file is from the end of the show. You also get to hear some words from others of Tom too in these files.
R&S October 2011 tribute portion
Leggo sings Love Song 4 A Vampire
Click this to see the video of Tom with the Sournotes as he performs 'Love Song For A Vampire'
We had a beautiful memorial/tribute October 17, 2011 at the Minnesota Music Cafe for Tom. Wonderful memories, feelings, and music! Click the photo below to make 'em larger.

Francis Duxbury III
does the song he wrote specially for the memorial/tribute gathering at the Minnesota Music Cafe October 17, 2011 called 'the Laughing Man is Gone'
Don't know if the Sournotes ever got airplay on the actual radio, but today February 24, 2014 they did on KLBB All Request Lunch - click below to enjoy!
the Whiskey Sournotes & Calcutta